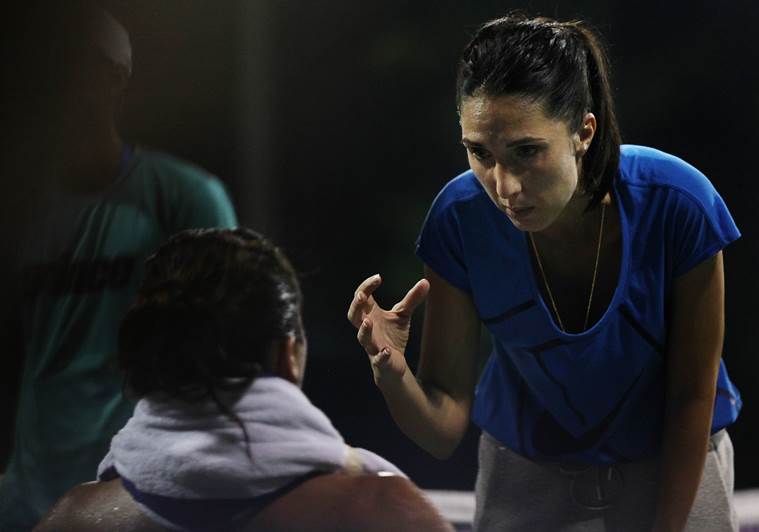 Former world No. 2 Anastasia Myskina coaches Margarita Gasparyan during the Mumbai Open at the CCI on Wednesday. (Express Photo by Pradip Das)
In a corner of an outer court, Anastasia Myskina sits patiently, watching silently as her ward Margarita Gasparyan competed in the first round of the Mumbai Open. Not many notice the presence of the veteran Russian, until Gasparyan calls for her coach between the two sets.
Dutifully, Myskina steps out of the shadows and marches on court, just as the eyes in the audience start to notice and recognise the fact that the 125K Series WTA event had in its presence a former world no 2, the 2004 French Open champion – the most decorated player present at the CCI tennis courts. "There are people who come to me for autographs and photographs," she says. "But not many know that I have quit."
Technically, she hasn't. In an eventful career that lasted for only seven years, Myskina last played a competitive match at the 2007 French Open before leaving the game without officially retiring. But she's moved on. Now a doting mother of three, she's taken up an administrative role with the Russian tennis federation, but often gets coaching assignments. Her latest venture has brought her back to India, in the very country where she had won her last singles title as a player (in Kolkata in 2005).
It's a job, she asserts, that has been helpful in her role as a coach. "It's a very tough job, but you learn how to understand the needs and wants of a child. You know how to help them," she says after Gasparyan beat Croatia's Tereza Mrdeza 6-3, 6-2. "You become patient and that always helps you deal with the problems a player goes through. The only thing is that you can help them only when they are off court."
That 'motherly' instinct serves her both on and off the court. She recounts an incident earlier in the day when she went to a food counter to bring Gasparyan a glass of juice. Realising the 24-year-old was in the company of three more players, Myskina brought back four glasses. "I did it without realising. But they started joking, 'Oh look, she's a mother, so she knows how many to bring.'"
Back when she was 23 though, she had become the first Russian woman to win a Grand Slam singles title. And she was a part of a golden generation of Russian tennis, which won two successive Fed Cup titles in 2004 and 2005, along with the likes of Maria Sharapova, Dinara Safina, Vera Zvonareva, Svetlana Kuznetsova and Elena Dementieva.
The competition within the country helped them get the results, Myskina says. "We used to push each other because only the top players got into the events like Fed Cup and the Olympics," she explains. "It brought out the best in us, but at the same time, there was good friendship. Till date we talk regularly."
Advertisement
Her relationship with Dementieva especially has been close. "We get together often and play," she says. "Instead I'd rather spend time baking deserts. I love doing that and I keep bringing food for Elena. Her daughter and my son that train together. But never Margarita."
Her own career lasted a very a short time, with injuries to her shoulder forcing her to drop rankings drastically till the point that she simply disappeared from the tour. "Sometimes I think seven years was not enough. But they were good seven years."
Her on-off job as a coach gives her a chance to make appearances at tournaments, particularly the ones held in Russia which she helps organise because of her work with the federation. But coming to India was a memory she was looking forward to. "I was very excited, but when I submitted my documents for a visa it got rejected," she says. "I'm just glad the embassy eventually helped me out."
Also Read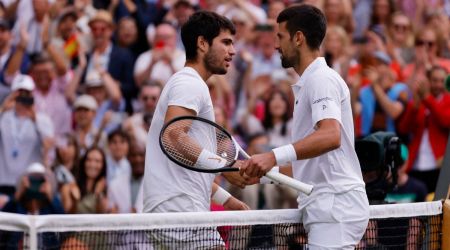 Novak Djokovic and Carlos Alcaraz set to meet again in group stage of Dav...
Watch: Jannik Sinner wins a 46-shot rally against Tommy Paul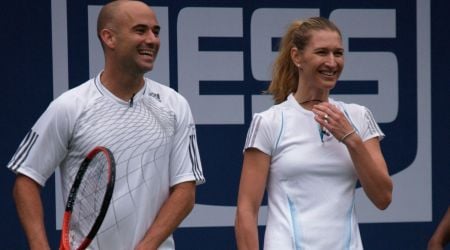 Does Steffi Graf ever age? Husband Andre Agassi has the perfect reply
'Never been friends, never been close to Roger Federer': Novak Djokovic s...Advertisement
Officially, she's still a WTA player despite coming to Mumbai in a coaching capacity. When asked if she intends to ever get back to playing, she smiles. "Elena and I keep joking that we will get back together as a strong doubles team, but that's probably not going to happen."